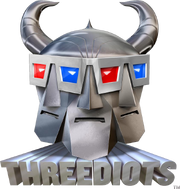 Threediots is an American television series which was created by Kate Duffy and produced by Consolidated Baily, Inc. for Nintendo Video of the Nintendo 3DS on its Cocktail Hour block. The series is about the Edwardsons named Burke Edwardson and Lola Edwardson who encounter many adventures in the Somerville. It was officially premiered on June 6.
This series was intended to yield a CollegeHumor show named Showgoers For Hire. However, the series was cancelled, and Consolidated Baily produced its own make named Threediots.
Merchandise
Edit
All volumes of Threediots will be released as DVD box sets by Consolidated Baily in 2014. Several Threediots t-shirts will also be available for purchase on Consolidated Baily Market.
DVD release date history for Threediots

| Title | Episodes | Release date | Description |
| --- | --- | --- | --- |
| Volume 1 | 6 | June 12, 2014 | Contains all 6 episodes from the first season. Bonus features include a Nintendo of America company tour, "The Joke's on Them", and Meat or Die episode "Meat07: Kate&Karen". |
| Volume 2 | 8 | March 9, 2014 | Contains all 8 episodes from the second season. Bonus features include "Baltasar's New Pet" cartoon, "The Threediot Family Players", and Nintendo Video short "Little Boat". |